PI Highlight
Dr. Tonika Duren Green
Dr. Tonika Duren Green, associate professor of school psychology and director of SDSU's School Psychology Program, is committed to preparing school psychologists who are multicultural thinkers and actors, who understand how racial, ethnic and sociocultural factors influence student performance.
Her research explores and responds to educational issues of children and communities from ethno-linguistically diverse backgrounds. Dr. Green has several peer-reviewed publications, grants, and a book chapter in the area of multicultural competency and increasing achievement of culturally and linguistically diverse children. Dr. Green's research centers on efforts to close the achievement gap for African American foster youth. Her work in improving outcomes for foster youth began in 2005.
Project CARES
Last year, Dr. Green received a $1.2 million grant from the U.S. Department of Education to prepare culturally affirming and responsive education specialists for foster youth.


Project CARES
The foster care system represents our most vulnerable youth. Over 400,000 children in the U.S. are in foster care, with 60% entering through reports of child abuse or neglect. California's 68,000 foster youth population, the largest of all the States, represents a growing population and growing need. This number has tripled in the last 20 years (U.S. Department of Health and Human Services, 2010). Many children in foster care are "roses that grow from concrete" (Duncan-Andrade, 2009; Tupac Shakur, 2009;), emerging through hope and success despite the lack of essential care, nutrients, and rich soil needed to bloom. While some youth in foster care blossom, the majority struggle and often break because of the lack of resources needed to develop in socially toxic environments. This is especially true of school-aged children in foster care. In California, 83% of students in foster care repeat a grade, 75% are working below grade level, and only 30% of students in foster care graduate. These weak K-12 educational outcomes, lead to poor post-secondary outcomes for youth in foster care, with high percentages of unemployment (50%), incarceration (25%), homelessness (20%), and low percentages of attaining a college degree (3%) (Legislative Analyst's Office of California, 2009).

These outcomes are compounded for children in foster care from culturally and linguistically diverse (CLD) backgrounds, as they are often overrepresented in foster care and in special education. This triple "whammy" leads to severe challenges to school success. CLD foster youth with disabilities need educational advocates who are culturally affirming, accountable, collaborative and skilled in prevention and intervention services.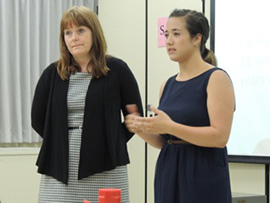 A former foster youth and her long time CASA (Court Appointed Special Advocate) speak about her journey.
Project CARES responds to the need for school professionals to work together to improve outcomes for culturally and linguistically diverse (CLD) children in foster care with disabilities. CARES prepares highly qualified pre-service school psychologists, school counselors, and school social workers through seminars, CASA (Court Appointed Special Advocate) training through Voices for Children, coursework and educational institutes.
The project trains scholars as educational advocates who are culturally affirming, accountable, collaborative and skilled in prevention and intervention services to reduce achievement gaps, improve school stability, and improve the quality of special education services.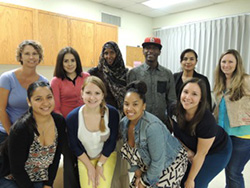 CARES Scholars 2013
Program partners include Voices for Children, SDSU School of Social Work, Department of Counseling and School Psychology, and San Diego County Office of Education Foster Youth Services. Dr. Green works with the following colleagues on this interdisciplinary project:
Project Evaluator: Sally G. Mathiesen, Ph.D., LCSW (FL) is an Associate Professor at the San Diego State University School of Social Work. She completed her MSW and Ph.D. at the University of Southern California. Her research agenda includes mental health over the lifespan, including co-occurring disorders in adults and mental health in the child welfare sector. She received a Fulbright Scholar award to the University of the West Indies for 2011 to pursue her research agenda regarding treatment of co-occurring psychiatric and substance use disorders and to expand her teaching of evidence-based practice. Dr. Mathiesen is the Chair of the Direct Practice Task Group for the School of Social Work, and was the co-author of the Evidence-Based Practice Curriculum Infusion project at the school.
CARES Seminar Collaborator/Consultant: Ashley Kruger, M.A. (San Diego State University, San Diego, CA-ADD DATE) is currently a School Counselor in Valley Center School District and a former Advocacy Supervisor for Voices for Children and a graduate of the SDSU School Counseling Program. She brings expertise in foster youth advocacy and education. Ms. Kruger serves as a Grant Seminar Collaborator and Mentor for CARES Scholars working with foster youth in schools. She is aware of the role of school counselors, school psychologists, and social workers because of her experience as an Advocacy Supervisor at Voices for Children.
Project Specialist. Katina Lambros, Ph.D., BCBA is Assistant Professor of School Psychology at SDSU and Research Scientist at the Child and Adolescent Services Research Center of Rady Children's Hospital. She serves as CARES Project Specialist. Dr. Lambros brings multiple layers of expertise to her role as Project Specialist. Her role as a Project Specialists utilizes her skills as a researcher and behavior analyst, to provide Scholars with skills in single-case design to monitor effectiveness of implemented interventions in schools and how this process can include the voices of parents. Dr. Lambros is also a Licensed Foster Home (LFA) with Angels Foster Family Network, which services children 0-5 in San Diego County.
For further information about Project CARES, please contact:

Dr. Green at 619-594-4467 or tduren@mail.sdsu.edu.
10/17/13