What is Sunwise Stampede?

What is Sunwise Stampede?
Sunwise Stampede is a non-profit sun safety program for zoo visitors that focuses on children and their caregivers. The Centers for Disease Control and Prevention (CDC) funded researchers at the Graduate School of Public Health, San Diego State University to develop the program because:
the rates of skin cancer in the U.S. have been increasing rapidly;
exposure to solar ultraviolet radiation (UVR) in childhood puts people at higher risk of developing skin cancer later; and
visitors to zoos typically are exposed to long periods of UVR while they view the outdoor exhibits.
The program is administered by the San Diego State University Foundation.
About the Logo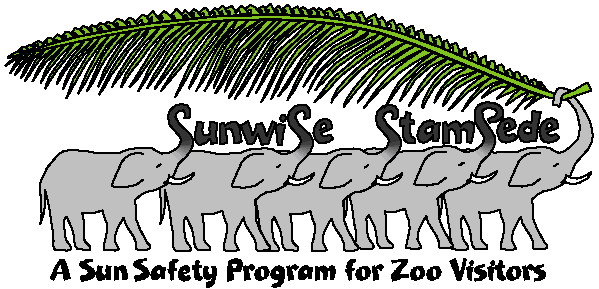 Parents and other caregivers are responsible for children's safety, including sun safety. This idea is illustrated by the lead elephant protecting her family with the palm frond.
Sunwise Website for Guests
Many of your previous and future guests enjoy computer-based activities. Direct them to the Sunwise Stampede website for guests, with a link from your own website, information in your newsletter, or print our website address on your zoo map. Click here to visit the site for guests.