In 1999, the San Diego Zoo participated in all components/activities of Sunwise Stampede. The program developers evaluated the program's success using another zoological site for comparison ("park"). Overall, the program proved itself to be very successful. The outcomes are summarized below.
Hat wearing by children increased significantly at the zoo when the program was offered.
Sales of sunscreens and hats at the zoo's gift shops increased substantially.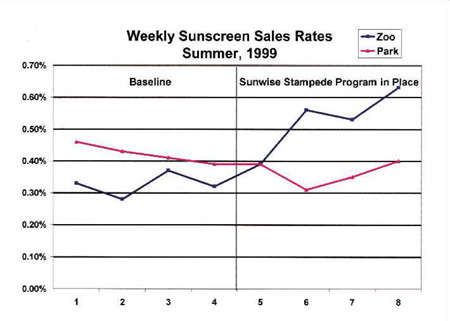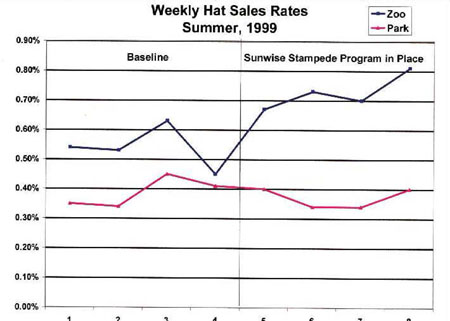 The discount coupons for sunscreens and hats were popular.
We offered coupons for $1.00 off the purchase of sun-protective hats for children and $.25 off the purchase of sunscreen in zoo gift shops. Forty-eight percent of hats and 67% of sunscreen tubes sold during the Sunwise Stampede program were purchased with a coupon.
The stamping activity was viewed by parents as both entertaining and educational, and many children participated.
On average, 41 people stamped per hour per booth. In intercept interviews, 98% said the activity was somewhat or very entertaining and 95% said it was somewhat or very educational.
Narrated tours included sunwise messages the majority of the time.
At least one message was heard on 76% of observed tours. Of those visitors interviewed after a bus tour, 92% reported having heard a Sunwise Stampede message.
Key personnel at the San Diego Zoo are enthusiastic about the program, and have retained many of the activities for the long-term.
Dr. Risser, General Manager:
"We were happy to have the opportunity to work with the team from San Diego State University to develop the Sunwise Stampede program. The program allowed us to highlight an important health issue - sun safety. The materials were easy to incorporate and our guests found the program to be both educational and entertaining."
"Our experience with launching the Sunwise Stampede program was so positive we decided to incorporate elements of the programs throughout the year."
Mary Lieras, Curator of the Children's Zoo:
"The Children's Zoo is a great place to incorporate the Sunwise Stampede program since the program targets children. Because so many animals have sun-protective adaptations, it was easy for us to create art activities and messages that were both interesting and fun. Here at the San Diego Zoo, we had volunteers facilitate the art activities, sunwise messages were incorporated into our animal walk-arounds and our Children's Zoo show, and signs were created to highlight our sunwise animals."
"Children of all ages enjoyed the Sunwise Stampede activities. Even though it was simple and inexpensive, the decorate-the-elephant activity was especially popular."