The Children's Zoo staff at the San Diego Zoo developed additional children's activities to promote sun safety awareness and actions. The activities may be staffed by zoo employees or volunteers. Try these, and develop some of your own!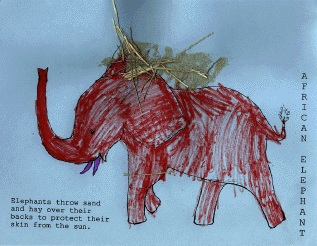 Children help elephants "dust." They are given construction paper with an outline of an elephant and are told how elephants protect their skin by using mud and dust. The children then paste sand, grass, etc. on the elephant. Large containers of these materials are placed on tables.
Download Decorate-the-Elephant master (pdf 18kB)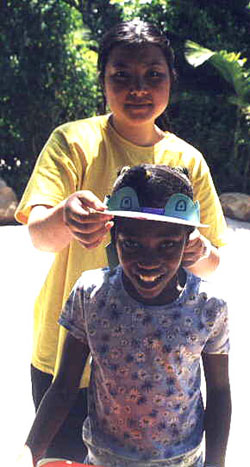 Children decorate wide-brimmed visors to wear during their zoo visit.
Download frog visor pattern (legal size-pdf, 86kB)
Pen and Pencil games require little or no staff involvement. Game sheets can be placed on a table with a tub of crayons. Also, they can be printed in your newsletter.
Download the Animal Crossword activity sheet (pdf 143 kB)
Download the Animal Skins activity sheet (pdf 100 kB)
Download the Animal Maze activity sheet (pdf 113 kB)
Download the Animal Search activity sheet (pdf 129 kB)